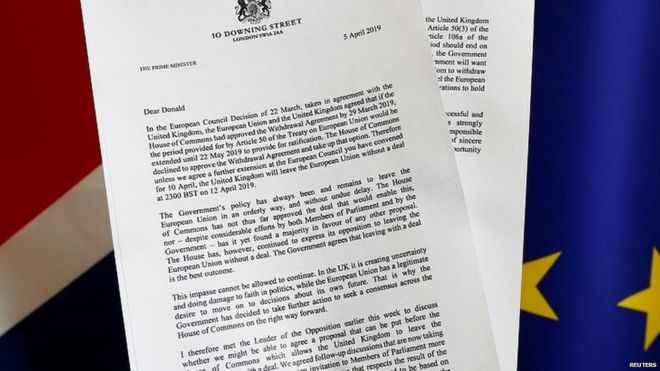 5 April 2019
Theresa May has written to the European Union to request a further delay to Brexit until 30 June.
The UK is currently due to leave the EU on 12 April and, as yet, no withdrawal deal has been approved by MPs.
The government has been in talks with the Labour Party to try and find a compromise to put to the Commons.
But shadow Brexit secretary Sir Keir Starmer said the Tory negotiating team had offered no changes to Mrs May's original deal.
The PM said from the outset she wanted to keep her withdrawal agreement as part of any plan, but was willing to discuss the UK's future relationship with the EU – addressed in the deal's political declaration.
Sir Keir said the government was "not countenancing any change to the actual wording of the political declaration", adding: "Compromise requires change."