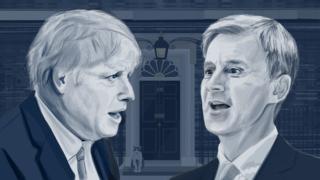 18 July 2019
Conservative MPs Boris Johnson and Jeremy Hunt are going head-to-head to become the next Tory leader and prime minister.
After getting the backing of Tory MPs, they are now waiting to hear whether they have won the support of around 160,000 Conservative Party members in the ballot for the top job.
Voting closes at 17:00 BST with the winner to be announced on Tuesday morning.
But where do the potential new prime ministers stand on key issues?
Here's a quick guide to their positions on Brexit, immigration, tax, spending, health and social care and education.
https://www.bbc.com/news/uk-politics-48395611
Source: BBC.com