16 October 2020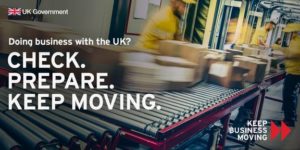 The DIT, Department for International Trade, just share with us news regarding Border Operating Model.
The UK Government has published an updated version of the Border Operating Model, which provides more detail on how the GB-EU border will work, and the actions that traders, hauliers and passengers need to take. You can find the updated Border Operating Model on Gov.uk.
Key updates include:
The requirement for passports for entry into the UK from October 2021
The Kent Access Permit
Requirements under Entry In Declarant's Records (EIDR)
SPS checks
Information on chemicals, gases, timber and pesticides
Process maps, and locations of border infrastructure
The Goods Movement Vehicle Service (GVMS)
The 'Check an HGV is ready to cross the border' service
Passenger policies
Requirements on the rail and aviation sectors
Advice on EU requirements
If you have any questions regarding the updated Border Operating Model, the DIT France Director, Ilaria Regondi, is holding a LinkedIn Q&A.
Please check her page for further information and to ask them your questions.