1 September 2021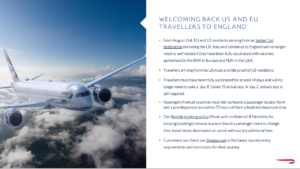 With much of the Northern Hemisphere either now in or approaching the main summer holiday period, it's great that here in the UK, fully vaccinated residents returning from an 'amber list' country no longer need to quarantine upon arrival. Furthermore, the UK Government yesterday has confirmed that from Monday 02 August, the same rules will apply for EU and US residents arriving into England, Scotland and Wales. This means that for many customers wishing to visit, it will be a much smoother travel experience. France his being moved from amber-plus to amber, which means that fully-vaccinated passengers returning to England, Scotland and Northern Ireland from France will no longer need to quarantine. The changes will take effect from 04:00 BST on 8 August.
From August 2nd, EU and US residents arriving from an 'amber' list destination (including the US, Italy and Germany) to England will no longer need to self-isolate if they have been fully vaccinated with vaccines authorised by the EMA in Europe and FDA in the USA.
 Travellers arriving from the US must provide proof of US residency.
Travellers must have been fully vaccinated for at least 14 days and will no longer need to take a 'day 8' Covid-19 arrival test. A 'day 2' arrivals test is still required.
 Passengers from all countries must still complete a passenger locator form and a pre-departure test within 72 hours of their scheduled departure time.
Our flexible booking policy ('Book with confidence' & Flexibility for existing bookings) remains in place should a passenger need to change their travel dates, destination or cancel without any additional fees.
Customers can check our Sherpa tool to find latest country entry requirements and restrictions for their journey.