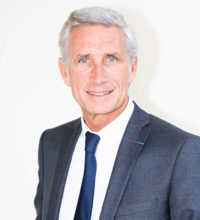 Thierry Drilhon
Président
Thierry Drilhon has 35 years of experience in the technology, digital and innovation sphere, acquired as an international manager of major companies such as Microsoft and Cisco Corp. of which he became Senior Vice President in 2007, based in Paris and San Francisco and member of the World Executive Committee. In 2012, he joined Euro Media Group in Paris as Chairman and Chief Executive Officer, which he would go on to transform into a European media leader present in 8 European countries.

Deeply "Francoptimistic" and "Europtimistic", Thierry was elected President of the Franco-British Chamber of Commerce & Industry in June 2018, thus putting his international experience at the service of the attractiveness of Franco-British business relations.

Read more
Senior Advisor for Europe at Francisco Partners, a US private equity fund specialising in technology and healthcare, Thierry is also a member of the Boards of Directors of Claranet (London), Beijaflore and Synapscore (Paris).
He is a member of the Strategic Committees of Yotta Capital and Idate DigiWorld.

Very committed to health and the heart, since 2002, as President of Cisco France, he has accompanied Professor Christian Cabrol in favour of organ donation, participating for 10 years in "La Course du Coeur". In January 2019, he became the Managing Director of the French Federation of Cardiology, from which he went on to co-found the Endowment Fund "Agir pour le Coeur des Femmes - Women's Cardiovascular Healthcare Foundation" with Professor Claire Mounier-Vehier.

Knight in the Ordre National du Mérite, he is a graduate of EAD Paris and Stanford University in the United States.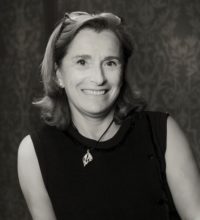 Marie-Christine Bilbow
Vice-President, Chief Financial Officer – Treasurer
Marie-Christine Bilbow is the CEO of Euro Airship, a company that develops and markets rigid airships for the logistics, tourism and surveillance markets
Read more
She has gained international experience in major industrial groups such as 3Com, Sterling Software, Assa Abloy, Brinks, Locatel. She has such held positions as CFO, subsidiary director and general manager.

She was appointed Vice-President of the Franco-British Chamber in 2015, in charge of finance, where she brings her knowledge and experience to the Chamber's development and growth.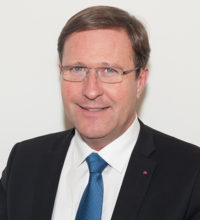 Oliver Campenon
Vice-Président
Olivier Campenon has been President of the Board and Executive Committee of the Lefebvre-Sarrut group since 2018. This European family group is one of the leaders in publishing and legal training with iconic brands such as Francis Lefebvre and Dalloz.

With more than 25 years of business management experience at BT (formerly British Telecom), Deutsch Telekom, Siris and AT&T, Olivier has built up a solid experience of the digital world and its multiple implications on all sectors of the economy.

Read more
Olivier is also Vice-President of the Franco-British Chamber of Commerce, of which he was President for several years, particularly during the Brexit vote and its first consequences. He was made a Knight of the Franco-British Chamber in 2019. He is a member of the Advisory Board of the Professional Women Network and the ETI Club.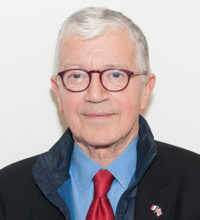 Michel de Fabiani
OBE, Vice-Président
Michel de Fabiani mainly held executive positions in the energy sector, where he began his career at BP in 1969 and rose to the position of Regional President Europe of the BP Group in 2005 and Vice President of EUROPIA.

Anglophile and deeply European Michel was President of the Franco-British Chamber in 2005 and 2010, of which he is currently Vice-President. In 2005 he was also appointed Chairman of the Hertford British Hospital Charity in Levallois-Perret (92), and was made a Knight of the Franco-British Chamber in 2019.


Read more
Director of industrial companies and specialist in Corporate Governance, he is also Chairman of the Policy Committee of EcoDa in Brussels, the lobby of the European Institutes of Directors.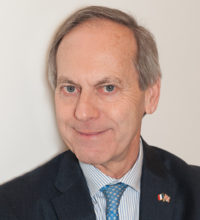 Hubert Dupont L'Hotelain
Director – Business Development
Hubert Dupont L'hotelain was Treasurer of Vivendi from 1995 to 2016. Prior to that, Hubert was Treasurer of Compagnie Générale des Eaux, Aérospatiale and Atochem, three French CAC 40 companies. He also has experience as a banker, as Director of Development at BFT (formerly CCF Group, now HSBC France) for two years, and as a Director of the Global Treasury Advisory Board of Citibank for five years.
Read more
His personal experience was built between France and Great Britain where he lived for 15 years. He has adopted a bi cultural attitude in his relationships, trying to make the most of two exceptionally rich lifestyles. After leaving Vivendi, Hubert joined the Franco-British Chamber to develop activities and memberships, and has been a Director since 2017.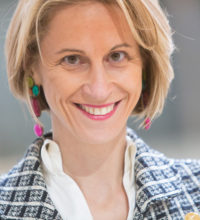 Marie-Alix Michel
Director, Honorary Secretary - Legal Counsel
A lawyer and solicitor, Marie-Alix has more than 20 years of experience as an international business lawyer. She has worked as a project manager for major international firms (Allen & Overy, PwC) as well as for major English, American and French groups (Grosvenor, Car Val Investors, Alstom, HP) in France and in the United Kingdom.
Read more
She has been a director of the Franco-British Chamber since 2014.
At the same time, Marie-Alix supports growing start-ups. She has taught at ESCP Europe and the University of Paris-Dauphine.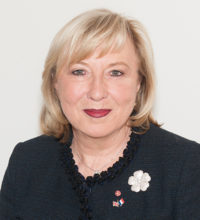 Françoise Rausch
OBE, Director – Cross Channel Institute
With more than 40 years' experience as a manager in leading Anglo-Saxon industrial companies in the global construction and agricultural machinery markets, such as the British JCB group and the American Case group, F. Rausch has acquired an outstanding knowledge and expertise in international business relations at both a European and global level. After having been Chief Executive Officer of JCB SAS for 15 years, she joined the Case group as Vice President in charge of EAME. At the end of 2000, she returned to JCB headquarters to ensure the development of global sales as Managing Director of JCB Sales and a member of the World Executive Committee.
Read more
In 2012, she was appointed Officer of the British Empire for services to British industry. Since 2015, she has put her experience and know-how at the disposal of the Franco-British Chamber as a Director. She is also Vice-President - Treasurer of the FICIME and Honorary Judicial Expert approved by the Court of Cassation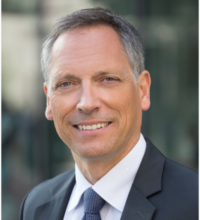 Denis Simonneau
Director
Since 2018, Denis Simonneau is General Delegate for Institutional Relations of the L'Oréal Group. Graduated from the Institut d'Études Politiques and the École Nationale d'Administration (ENA) of Paris, Denis Simonneau has a twenty-year career as a diplomat: he has, among other things, served in India and South Africa, was an advisor to the Minister of European Affairs Michel Barnier, was appointed Consul General and Head of the French Trade Economic Mission, specializing in energy, in Houston, Texas.

Read more
He was also deputy spokesman for the Ministry of Foreign Affairs from 2005 to 2007, then chief of staff for the Secretary of State for European Affairs, Jean-Pierre Jouyet.
From 2009, he held various positions within the energy company GDF SUEZ, which became ENGIE, until he became a member of the Executive Committee in charge of European and International Relations.
Denis Simonneau is also President of EUROPANOVA, a French NGO specialized in European issues.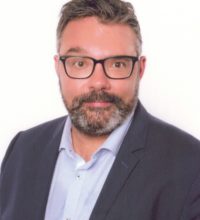 Loïc Chavaroche
Director
As Quality, Safety, Security, Environment, CSR and ESG Director for the Sterne Group, Loïc Chavaroche is involved in all the Sterne Group's Business Units - in France, Poland, Romania, Spain, China, Turkey and Russia.
Read more
The action of the QSSE-RSE-ESG Department is to support the Operational Teams in the implementation of their structures, procedures, risk assessments, PUPA and PCA.

Sterne's actions enable Business Units to be certified according to ISO 9001 - ISO 14001 - ISO 13485 and soon under other standards.

Thier interventions structure the achievement of thier CSR and ESG objectives by deploying third party assessments with Ecovadis.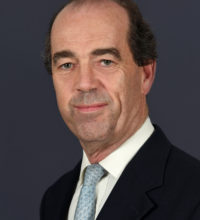 James Palmer
Director
James Palmer is a partner and co-founder of Orphéon Finance. He is Franco-British and has 25 years of experience in investor relations and financial communications with major companies. He has worked for companies such as PSA Peugeot Citroën, Rhodia and Lafarge. Today, with his team, he advises and assists many companies of all sizes and in different sectors, industry, finance, biotech/medtech.... whatever their strategic communication challenges are.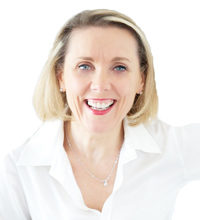 Catherine Le Yaouanc
General Manager, Franco-British Chamber
Catherine has been the General Manager of the Franco-British Chamber since 1993, when she accepted the challenge of the Chamber's financial recovery, the creation of new services and the development of membership. Projects to which will be added include numerous innovations in event typology, the development of new digital media and the Brexit challenge since 2016, which led to the creation in 2019 of the Think Tank, Cross-Channel Institute
Read more
The Franco-British Chamber is today one of the most dynamic chambers of commerce in the United Kingdom on European soil, and has been awarded numerous prizes (Events, Membership and Digital communication...). For her 20 years in the Chamber in 2013, her European peers awarded her "The Howard Rosen Special Award for Excellence". The number of memberships is constantly growing with a high attractiveness factor for all types of members – President's Forum, Corporate and Entrepreneurs.
Catherine previously held positions in a Special Products Export Department of the Elf Atochem-Ceca group. She is also a board member for the Fondation Franco-Britannique de la Colony de Sillery.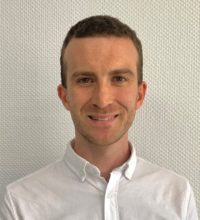 Scott Ruby
Director of Operations, UK Department for Business and Trade in France
Scott has held his position in the Commercial Section of the UK Embassy in Paris since October 2022. He has extensive experience in both the public and private sectors, having started his career in management consultancy with PwC and subsequently held a variety of roles in the civil service in London. At PwC, Scott led financial and operational improvement projects with public and private sector clients in the UK and overseas. Since joining the UK Civil Service in 2016, Scott has worked in a number of government departments including the Department for Transport and the Department for Education.