02/02/2021
THE FRANCO-BRITISH CHAMBER HAS BEEN DOMICILED AT 22 RUE DE LONDRES AT ITS PARTNER CROWE FIDELIO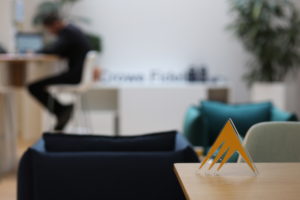 Since 1st January, the Franco-British Chamber has been domiciled at 22 rue de Londres at its partner CROWE FIDELIO.
Stéphane Bernard-Migeon, the CEO of Crowe Fidelio declares "we are delighted to welcome the Franco-British Chamber at such a special moment for all international entrepreneurs. We look forward to building strong partnerships with the Chamber and its members in the framework of a loyal and sincere friendship between our two countries".
The President of the Franco-British Chamber, Thierry Drilhon, is delighted with this partnership with Crowe Fidelio which will enable us to better support British entrepreneurs arriving on French soil and declares " We are pleased with this partnership which creates value for our members. Franco-British economic relations are strong as neighbours, historical friends and strategic partners. »
Read more
Press contact: Rochelle Ferguson, Communication and Media Relations Department
Franco-British Chamber of Commerce rfergusonm@gmail.com – +33 (0)6 95 71 53 37
ou +33 (0)1 53 30 81 32
Franco-British Chamber of Commerce & Industry
The Franco-British Chamber of Commerce and Industry, founded in 1873, is the oldest International Chamber of Commerce in Europe. The Chamber offers its members – French and British companies of all sizes and in all sectors of activity – a wide range of services to help them develop their cross-Channel business. Based in Paris, for over 145 years, the Franco-British Chamber has been a powerful business network helping and connecting companies. The Business Connect service, from member to member, enables a privileged and efficient relationship.
For further information about the Chamber, please visit:
www.francobritishchamber.com
Crowe Fidelio
Crowe Fidelio is a Parisian accounting and consulting firm founded 35 years ago and a member of the Crowe Global network. Our clients are entrepreneurs, SMEs, ETIs and large companies. We mobilise our energy and dynamism to help them meet their future challenges. Our vocation is to be the main pivot of their business environment by mobilising the skills they need.
Our commitment to the Crowe network and the close collaboration we build on a daily basis with the other member firms enables us to provide our clients with national and global support. We are committed to getting involved so that our partners see us as a natural extension of their organisation.
www.crowe-fidelio.fr