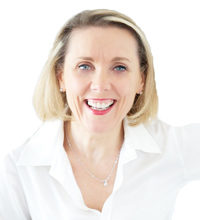 Catherine Le Yaouanc
General Manager, Franco-British Chamber
Catherine has been the General Manager of the Franco-British Chamber since 1993, when she accepted the challenge of the Chamber's financial recovery, the creation of new services and the development of membership. Projects to which will be added include numerous innovations in event typology, the development of new digital media and the Brexit challenge since 2016, which led to the creation in 2019 of the Think Tank, Cross-Channel Institute.
Read more
The Franco-British Chamber is today one of the most dynamic chambers of commerce in the United Kingdom on European soil, and has been awarded numerous prizes (Events, Membership and Digital
communication...).

For her 20 years in the Chamber in 2013, her European peers awarded her "The Howard Rosen Special Award for Excellence". The number of memberships is constantly growing with a high attractiveness factor for all types of members – President's Forum, Corporate and Entrepreneurs. Catherine previously held positions in a Special Products Export Department of the Elf Atochem-Ceca group. She is also a board member for the Fondation Franco-Britannique de la Colony de Sillery.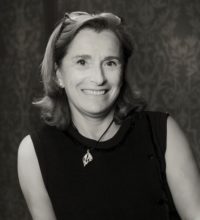 Marie-Christine Bilbow
Vice President - CFO- Franco British Chamber
Marie-Christine Bilbow is the CEO of Euro Airship, a company that develops and markets rigid airships for the logistics, tourism and surveillance markets

She has gained international experience in major industrial groups such as 3Com, Sterling Software, Assa Abloy, Brinks, Locatel. She has such held positions as CFO, subsidiary director and general manager.

She was appointed Vice-President of the Franco-British Chamber in 2015, in charge of finance, where she brings her knowledge and experience to the Chamber's development and growth.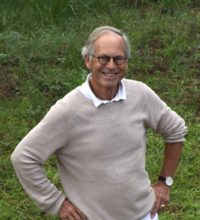 Hubert Dupont L'Hotelain
Administrateur - Développement Commercial
Hubert Dupont L'hotelain was Treasurer of Vivendi from 1995 to 2016. Prior to that, Hubert was Treasurer of Compagnie Générale des Eaux, Aérospatiale and Atochem, three French CAC 40 companies. He also has experience as a banker, as Director of Development at BFT (formerly CCF Group, now HSBC France) for two years, and as a Director of the Global Treasury Advisory Board of Citibank for five years.
Read more
His personal experience was built between France and Great Britain where he lived for 15 years. He has adopted a bi cultural attitude in his relationships, trying to make the most of two exceptionally rich lifestyles. After leaving Vivendi, Hubert joined the Franco-British Chamber to develop activities and memberships, and has been a Director since 2017.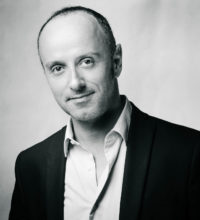 Jerome TESTUT
Head of Communications, Marketing and Partnerships - Coordinator, The cross-Channel Institute
Jerome started his career at Paris EUROPLACE, where he was in charge of promoting the Paris financial market internationally (North America, Asia, Middle East). He then spent almost 10 years in Los Angeles, USA, where he participated in the development of the image and reputation of two French scale-ups on the American continent. Back in Europe, Jérôme is delighted to join the Chamber and to contribute to the development of Franco-British business relations.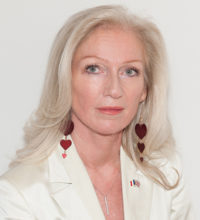 Jill Ledger
Communications
De nationalité britannique et résidant en France depuis 30 ans, Jill Ledger met à la disposition de la Chambre l'expérience de ses 25 ans de métier de directrice de la communication d'entreprise cotée, exercée dans l'industrie internationale ainsi que sa double culture franco-britannique.
Read more
A travers sa société Jill&Co Bilingual Communications, elle exerce une activité de conseil en communication stratégique aux entreprises, en France et à l'international. Véritable partenaire d'affaires de ses clients, elle est reconnue pour son leadership d'équipe et sa plume creative en anglais et en français.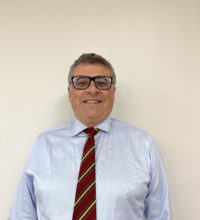 THIERRY DERRIEN
Contact de Presse
Thierry est un créateur entrepreneurial de concepts & contenu ainsi qu'un consultant en communication et un designer freelance. Thierry a une grande expérience en tant que conseiller stratégique de haut niveau et a été manager opérationnel dans des agences internationales et en interne. Il est ravi d'apporter ses connaissances à la Chambre en tant que nouveau contact presse.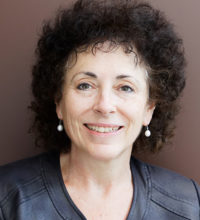 Claire Oldmeadow
Formation linguistique & Certifications
D'origine britannique, Claire vit et travaille en France depuis plus de 30 ans. Elle a une expérience riche dans le domaine de la formation linguistique ayant été formatrice d'anglais pour adultes, Responsable Pédagogique, puis Directrice Générale d'une école de langues parisienne, conceptrice de tests d'anglais professionnel et Chef de Projets Linguistiques pour entreprises et instituts d'enseignement supérieur.
Read more
Convaincue que les formateurs doivent continuer à se former tout au long de leur carrière, Claire s'implique dans le développement professionnel des formateurs d'anglais professionnel en France via l'association The Language Network qu'elle a cofondée.
Depuis 2001 Claire est responsable de la gestion et développement des certifications d'anglais professionnel de la Franco-British Chamber.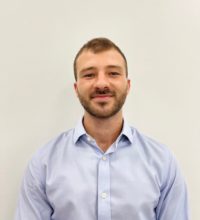 Paul Abi-Akar
Project Coordinator for Membership and Business Connect
Paul is a student doing a gap year in order to obtain his Master in Business School. Thanks to his triple nationality (Franco-Lebanese-American), he knows how to show his strength at international level and how to adapt to different environments; he is looking forward to being in contact with the members of the chamber.
Having created his own company 2 years ago, he specialises and is passionate about the food trade and drop shipping.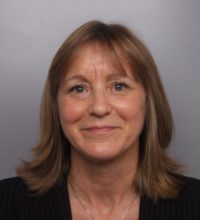 Maryline Marilly
Business Developer
Forte d'une solide expérience internationale tant au sein de SMI innovantes que de grands groupes industriels tels que Assa Abloy et Bolloré, Maryline est désormais basée à Londres et rejoint la Franco British Chamber of Commerce afin de contribuer à son développement grâce à une présence à Londres et à ses connaissances multisectorielles du marché Britannique.

Développer l'attractivité des relations d'affaires entre nos deux pays et promouvoir l'amitié entre nos deux nations sont les deux principaux moteurs de son engagement auprès de la Franco British Chamber.
Read more
Maryline dispose d'une expérience de plus de 20 ans dans le développement commercial à l'international ainsi que dans la gestion de projets, grands comptes et appels d'offres complexes en B2B et B2G dans des secteurs variés (mobilité électrique, transport durable, construction, distribution, médicale, textile et tourisme) dans un environnement multiculturel/multilingue avec des expatriations en Italie, Angleterre, Espagne et États-Unis.

Ayant étudié à Nottingham (MBA) et travaillé plus de 9 ans en Angleterre, Maryline connaît bien l'environnement économique, culturel et institutionnel britannique. Parmi ses expériences sur le sol britannique, elle a fortement contribué au projet du groupe Bolloré d'acquérir, de gérer et développer le réseau de bornes de recharge pour véhicules électriques à Londres pendant plus de 4 ans.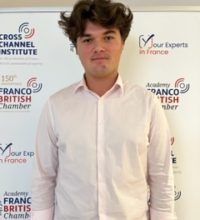 Ben Wild
Project Coordinator and Public Affairs
Ben is in his third year of studies at the University of Exeter, where he is undertaking a year-long work placement at the Chamber in Paris. Having spent a number of his childhood years living just outside of Paris, he is keen to put his bilingual skills to the test. Studying Business Management and French, this year-long internship serves as the perfect foil to help bring his degree to life.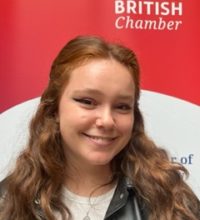 Marine LE BOUCHER
Event Projects & Communications Assistant
Marine is in her third year of a Bachelor's degree in Event Project Management at ISEFAC Paris, and is doing her work-study placement with the Franco-British Chamber of Commerce and Industry in Paris. After living in the UK for 1 year and completing her BTS in Tourism in 2023, she is eager to use her language skills and her professional experiences to promote the Franco-British business relations.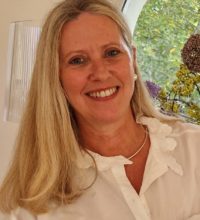 Véronique Campenon
After an initial training in tourism, Véronique worked for ten years in the direct marketing subsidiary of RSCG (Havas Worldwide). She has now been a student at the Collège des Bernardins for 11 years. She is looking forward to joining a team with an international outlook. Her guiding principle is to communicate and create links in order to move forward together!