19 May 2021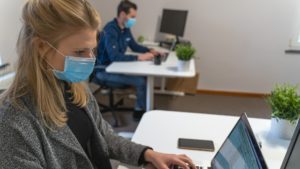 Whereas in France as well as in the UK, reopening plans for restaurants, bars, shops and touristic sites are in progress, the situation of businesses is also at the center of attention. A survey of over 1,000 UK businesses conducted by the BCC reveals that the majority of respondents have no intention of demanding proof of vaccination from their customers, suppliers or employees. More than 76% of companies plan to maintain social distancing over the next year, with 54% maintaining the obligatory mask.
Companies with less than 50 employees were the least concerned about this issue, with 80% saying they had no plans to implement proof of vaccination requirements. 4% said they already require proof of vaccination, and 6% said they were likely to do so in the future.
These companies are actually facing a complex situation. Implementing proof of vaccination would entail "laborious administrative processes" as well as "HR concerns about people not wanting to be vaccinated," explains Gareth Jones, managing director of In-Comm, a training course provider.
Hannah Essex, co-executive director of the British Chambers of Commerce, asserts that the British government must clarify the future health situation for companies; mainly, warning companies as soon as possible if a health certification policy would be mandatory and if they will have to keep spending on safety measures against COVID-19 (masks, social distancing…).
To read the whole BCC article, click here