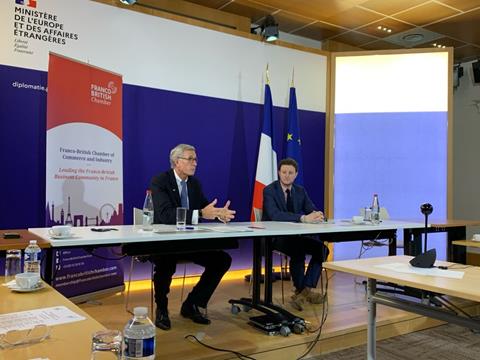 19 November 2020
On Tuesday November 17th, 2020 the Franco-British Chamber of Commerce had the pleasure of welcoming Clément Beaune, Secretary of State in charge of European Affairs, to speak about the future relationship the UK will have with the EU following Brexit.
Mr. Beaune began by addressing some of the most pressing issues brought about by Brexit. Among other things, he highlighted that the matter of British and European fisheries was one not fuelled by animosity but rather by a mutual understanding of respective interests on both sides. Furthermore, border crossings will inevitably be more regulated with 700 new border recruits from France and the immediate implementation of controls on the exchange of goods and the movement of persons following the 31st of December. In essence, Mr. Beaune spoke of the potential that Brexit brings for the Franco-British relationship as an opportunity for fundamental change and innovation.
Following this, our members were then allowed to ask Mr. Beaune several questions of clarification. Most notably, Mr. Beaune revealed that the Erasmus program should continue between the UK and the EU, with the former acting as a third-party contributor. Travel visas will also not be necessary for trips under 90 days and business visas remain still a matter of negotiation. Defence and security cooperation will also be impacted, yet there is a commitment on both sides to reinvent this relationship notably in view of the next bilateral summit in 2021.
Mr. Beaune concluded on the idea that both the France and the UK share many of the same values and ambitions, and that regardless of Brexit the Franco-British friendship will live on well into the future but of course in a new form.
Discover the message left by the Minister.