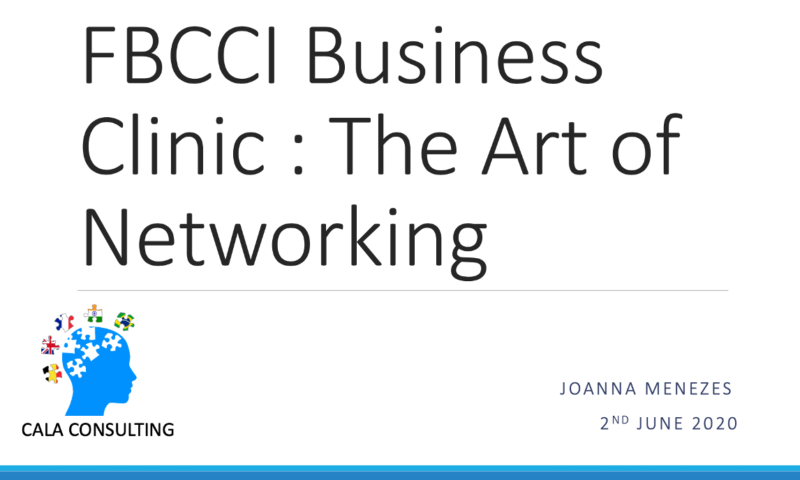 2 June 2020
On the 2nd June 2020, the Franco-British Chamber was delighted to welcome Joanna Menezes, ILM Certified Coach & Trainer, Creator of Cala Consulting, to present the topic of 'How to Develop your Network' at the latest in our web "Business Clinic" series. Networking has become an incredibly important if not essential part of successful business. Joanna highlighted the many benefits of a strong business network such as helping you to create and seize opportunities and that, as with anything, the more you put into your networking, the more you will get out of it.
4 Key Steps to Business Networking:
Have a Plan

Work out your short- and long-term professional goals
How can you achieve these goals?
Who can help you?

Adopt a Networking Mindset

Be open-minded
Be ready to give first
Be available and generous with your time
Be confident and reliable

Develop your Networking Tools

Work on your personal brand
Have a business card
Have a social media presence
Know how to start conversations and small talk

Get going!
Traditional networking happened mostly "Offline", this meant attending in person events and identifying possible contacts for your business network. There are many different participation levels to attending an event, all helping to achieve different networking goals, these levels range from simply attending through to being the speaker and even the host.
Joana shared with participants the best places to network for your business and suggested:
Local Business Groups
"Casual Contact" Groups
"Strong Contact" Groups
Community Service Clubs
Professional Associations
Women's Networks
Mastermind Groups
Understandably, networking at the start of your career and at the start of trying to achieve your goals can be a nerve wracking task and so Joanna made sure to include her top tips on how to manage nerves: going with a friend, arriving early, having an objective, identifying who you want to meet, preparing "ice-breaker" questions and preparing your 1 minute pitch to those you meet.
Online networking has become essential to business survival given the recent coronavirus crisis forcing many business practices online. Different options for online networking include:
Joining online communities
Subscribing to news feeds and sharing content
Hosting or participating in Webinars
Writing a blog, subscribing or reviewing
Creating a Wiki
Sharing presentations on SlideShare
Social media has become one of the most important networking and marketing tools for all businesses. Joanna suggests that to have a strong social media presence one should select up to three platforms and ensure that these are kept regularly updated.
Joanna's final Top 10 Tips for Networking:
Don't underestimate the power of networking
Don't underestimate your contribution to a network – identify how YOU can help each new connection
Know why you are networking – be clear about your objectives
Meet people through other people and aim to build genuine personal connections
Consider your personal branding
Create a Relationship Action Plan
Favour listening to speaking (and selling!)
Leverage social media
Find a reason to follow up with people from your network and stay connected
Don't spread yourself too thin
Thank you so much to Joanna for her wonderful insight on such a relevant topic and we look forward to welcoming her and her expertise back for more of our events in the future.
If you would like to discuss this and other topics with Joanna, please contact her at:
Joanna Menezes
ILM Certified Coach & Trainer
Cala Consulting
j.menezes@cala-consulting.com