5 December 2022
Last Thursday the Franco-British Trade & Investment Awards 2022 ceremony was held at His Majesty British Ambassador to France Residence, Dame Menna Rawlings DCMG. Organised in collaboration between the Commercial Section of the British Embassy in Paris and the Franco-British Chamber, these awards were attributed to four companies in four different categories out of eight companies pre-selected by the jury.
The awards were presented on December 1st, 2022 by Chris Barton CMG, H.M. Trade Commissioner for Europe and Thierry Drilhon, President of the Franco-British Chamber.
It was the second edition of the Franco-British Trade & Investment Awards that recognize successful businesses active on both sides of the Channel. They are awarded by the Franco-British Chamber (the Paris-based Franco-British chamber of commerce) and the British Embassy in France. Contestants must be head-quartered in France, or in the UK and undertake commercial export, investment, or R&D activities in both countries.
The four award categories this year included Technology & Innovation; Clean Growth; SME of the Year; and the Levelling-Up Prize which rewards a regional champion in either country. Participants, whether companies or investors, were invited to highlight their success, growth and potential to show how their activity supports economic relations between the two countries. There were 44 contestants this year against 37 last year.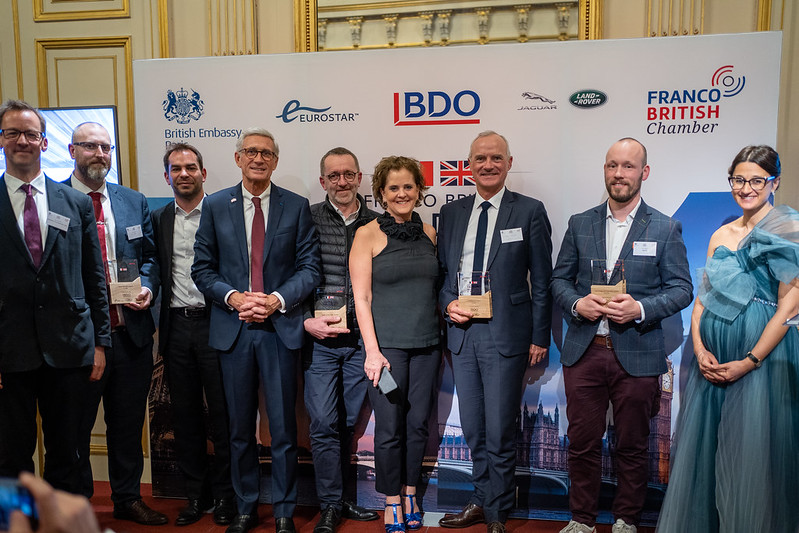 Congratulations to the winners in each category:
Sustainable Growth – Lhyfe
Tech & Innovation – OnePlan
SME of the Year – Sesame Access Systems LTD and Access +
Levelling Up – Loxam
Congratulations also to the finalists: GSK, CTIbiotech, Paxman and Infotel