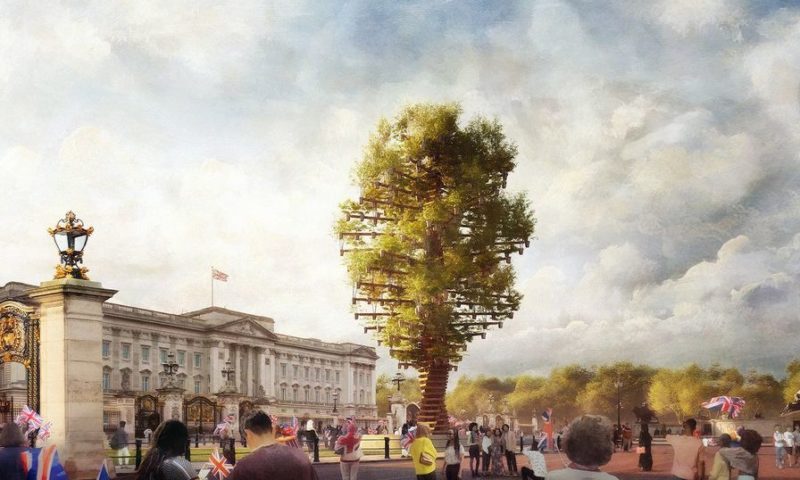 18 May 2022
The Queen of England Elizabeth II celebrates her 70 years of reign. A work composed of 350 trees will be installed for this occasion, in June, in London.
In June, the Queen of England Elizabeth II will celebrate her 70 years of reign. A longevity to which will echo a sculpture created for the occasion, also embodying a symbol of longevity: the tree. In front of Buckingham Palace, in London (United Kingdom), a 21-meter high work concentrating 350 native British trees will be installed. Installed in aluminum pots, they will be supported by a recycled steel structure. The wooden supports will be FSC certified. A project designed by the London agency Heatherwick studio.
"It is an honor for us to create the tree of trees. The structure has been sourced from workshops and nurseries across the country as part of an incredible campaign that is literally changing the landscape of our nation," enthuses Thomas Heatherwick, designer. One thousand trees have been planted by Britons, as part of a pre-planned appeal, between October 2021 and March 2022. A way to remember that Elizabeth II has helped plant more than 1,500 trees around the world since the beginning of her mandate.
At the end of the celebrations, scheduled from June 2 to 5, the 350 trees of the structure, named "Tree of trees", will be donated to associations that should "inspire the next generation of tree planters". They will be stored over the summer before being distributed at the beginning of the planting season in October. For Heatherwick studio, working with trees is not new: the company has designed a floating tree park in New York (USA), the extension of Google's American campus or a shopping mall decorated with 1,000 trees and 250,000 plants in Shanghai (China).
Source : Usine Nouvelle
Photo credit: Heatherwick studio