10 May 2021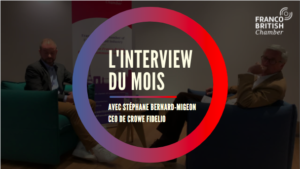 In May, we are launching "L'interview du mois". Every month, we will have the pleasure of welcoming one of our members for an exclusive interview.
To inaugurate this new video format, we had the honour of hosting Stéphane Bernard-Migeon, President of Crowe Fidelio. He is interviewed by Thierry Drilhon, President of the Franco-British Chamber.
In this video, we discussed with him about his job, his knowledge of the Franco-British business world and the Chamber.
Watch the video on our YouTube channel.