8 April 2021
The Cross-Channel Institute publishes its third sector analysis dedicated to Franco-British Financial Services in 2021, in partnership with PwC and the DIT.
Financial services are a major sector for both French and British economies. Despite COVID-19 outbreak and the shocks caused by the Brexit, it remains a central and vital sector for our respective economies. Moreover, financial services are in the midst of a transformation, facing current and many future innovation challenges.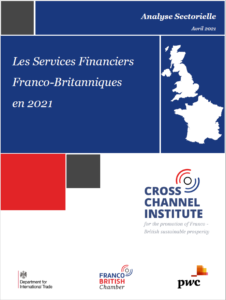 📖 To read the analysis, click here.
📺 To watch the replay of the web-event "Impacts of Brexit and Covid-19 on French and British financial services", with Sylvie Goulard – Second Deputy Governor of the Banque de France and Miles Celic – Managing Director of TheCityUK, click here.