30 March 2021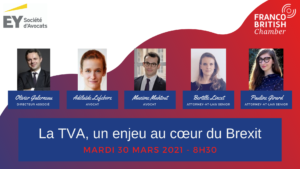 The replay of our conference on VAT in association with EY Société d'Avocats is available on our YouTube channel. 
At the beginning of a new era of international relations for the United Kingdom, a reconfiguration of the legal and tax aspects is necessary for French companies impacted by the "Brexit". This webinar provides an update on the new obligations and reflexes to adopt in terms of VAT in order to serenely approach all commercial exchanges with your partners based in the UK.
EY Avocats has a team of 24 lawyers with diverse backgrounds specialising in indirect taxation (VAT/customs), assisting French and international companies. EY Avocats' VAT team is a multi-disciplinary team that works in all areas of the economy (metal and steel industry, chemical industry, textile industry, pharmaceutical sector, retail, etc.).