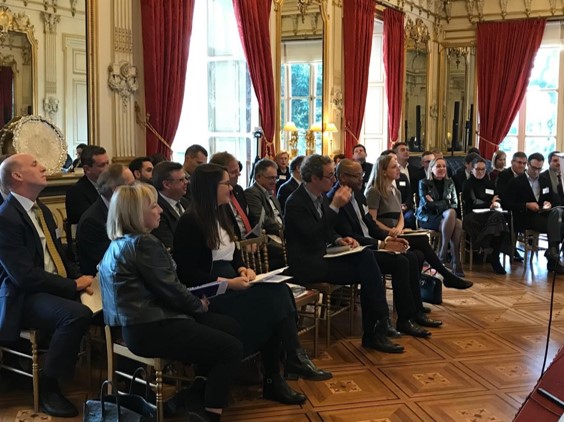 21 November 2019
On the 21st November 2019, the Franco-British Chamber held the now traditional Ambassador's Breakfast Briefing at the British Embassy. Thierry Drilhon, President of the Franco-British Chamber and Matthew Lodge, Minister and Ambassador of the United Kingdom of Great Britain and Northern Ireland to UNESCO, discussed the current state of and outlook for Franco-British trade relations in front of 50 President's Forum members of the Chamber. Matthew Lodge spoke about the Transmanche project which is in association with the Franco-British Chamber and our Brittany Delegation, and gave an update on business and international relations considering current events in Hong Kong, Iran and between China and the USA.
The 2nd Edition of the Franco-British Economic Relations Barometer produced by the Cross-Channel Institute for the promotion of Franco-British Sustainable Prosperity, just issued was presented to this audience of Senior Executives in Franco-British businesses. The Institute is a Think Tank founded by the Franco-British Chamber, PwC and the DIT*. The barometer provides an overview of Franco-British trade relations from 2018 and shows – among many other interesting statistics – that there has been an increase in trade by €5 billion between France and the UK between 2017 and 2018. With €97bn exchanged (+6%), the dynamic growth in trade reflects companies' Brexit preparations.
Thierry Drilhon, President of the Franco-British Chamber, said: "This 2nd barometer confirms the strength of trade between two long-term strategic and economic partners. It is a reliable source of strategic thinking and decision-making for international leaders of large companies, but also small to medium ones, who need to consider their business value chains between our two countries."
Jimmy Zou, Partner at PwC France, commented: "This 2nd Cross-Channel Institute Barometer confirms the readiness of large companies that have thoroughly assessed the impact of Brexit on their value chain. No one has anything to gain from chaos, and we believe that after a period of adjustment during the renegotiation of the treaties, trade volumes will remain high with a likely redistribution of flows."
Paul Taylor, Deputy Director, Department for International Trade (DIT), British Embassy in France, added: "The figures and analysis presented in this 2nd Barometer provide an in-depth understanding of Franco-British trade relations, and in particular the sectors of growth and the potential for the future. It is a useful reminder that France and the United Kingdom are major economic partners and will continue to create jobs, growth and opportunities together in the years to come".
(*) Department for International Trade