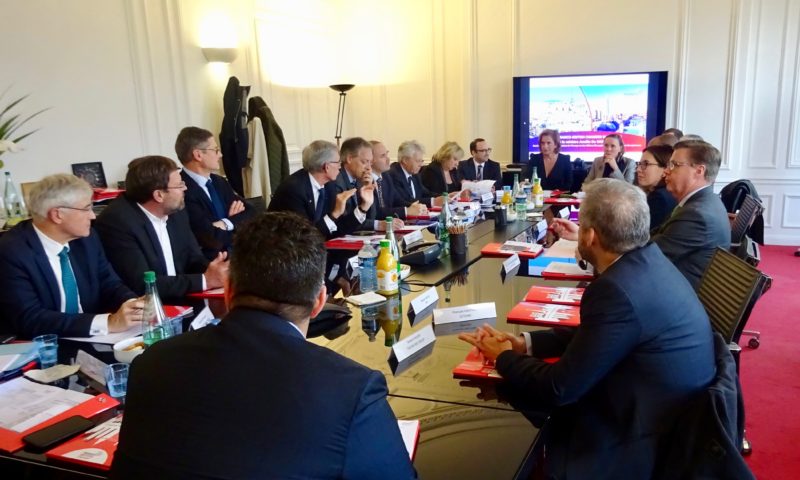 12 February 2020
On Wednesday 12th February, Thierry Drilhon – the President, the Board of Directors, and the team of the Franco-British Chamber had the pleasure and the honour of welcoming the French Secretary of State for European Affairs. Mrs Amélie de Montchalin wished to meet business leaders who are members of the Chamber and whose activities on both sides of the Channel are directly impacted by the consequences of Brexit. She wanted to hear our main concerns in light of the ongoing negotiations between the EU and the United Kingdom.
The Position of the European Union
This was an opportunity for Mrs de Montchalin to share with us the main thrust of her vision and that of the French Government within the Group of the 27 EU Member States:
with the key ideas of balance and mutual comitment;
to find an overall agreement on the fundamental points – the basis defined by Mr Barnier: Trade (free trade agreement) – Fisheries – Level playing field (balance & mutual comitment) – Common bilateral governance (if the European Court of Justice is no longer the regulatory body). To these could be added the common fundamental principles on Foreign Policy and Internal Security.
Question and Answer Session
The French and English business leaders present questioned her about the tight schedule of the negotiations, the rumours of a "free port", the weight of the Commonwealth and the agreement with the USA, the free movement of persons and the recognition of qualifications, the controls at the border of Northern Ireland and at the other borders of Northern Europe, the negotiations on fisheries, the consequences for GDPR and standards, etc.
Her concluding words reassured us of the optimism and pragmatism that she hopes will quickly take precedence over bravado. The aim is to maintain a deep relationship between our two countries, and between the EU and the UK, and, above all, to continue to work well together in the coming decades.
It was an inspiring and high-level meeting organised on the request of the Secretary of State for European Affairs, with many company directors and senior executives (of the CAC40, listed groups and ETI) from both sides of the Channel.
Our warmest thanks to the Secretary of State for this meeting which was organised quickly and successfully between her office and the Franco-British Chamber. team.