11 March 2021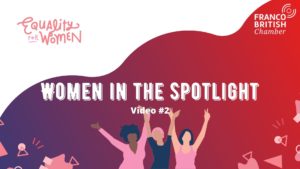 The Franco-British Chamber is happy to present you its 2d video for its "women in the spotlight" month!
This time, watch
Laurence Blanchet – Professional coach & founder of 3iD Coaching,
Claire Bonniol – Managing Director at CXB HUB,
Geneviève Mckinnon – Managing Director of Sémaphores
Charlène Darmon – CFO of Crowe Fidelio,
talking about their career and their experience!
Many thanks to them for their powerful and inspiring testimonials! 💪
to watch the video, click on the photo or click here!