16 September 2021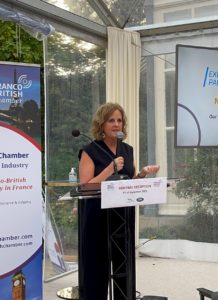 Welcome to the British Ambassador to France
We were delighted to be welcomed by the newly appointed Ambassador to France, Mrs Menna Rawlings CMG, at her Residence on the 09/09 and we would like to express our deepest thanks to the Ambassador and her team for a special evening. During her speech, the Ambassador summarised in three words her aspirations for the Franco-British relationship : Trust – Renewal – Partnership.
She reminded us all of the importance of our relationship – France remains the UK's 5th biggest trading partner – and of both building a positive economic relationship and maintaining fluidity between our two countries.
​Thank you to our sponsors Jaguar Land Rover, Expat Partners and Mon Hôtesse Bien Airmée.
Ambassador's biography
Mrs Menna Rawlings CMG was appointed Her Majesty's Ambassador to the French Republic in August 2021.
Previously Menna Rawlings was the Director-General Economic and Global Issues at the Foreign & Commonwealth Office (FCO) from March 2019 until August 2020. In this role, she had responsibility for Global Britain, Asia Pacific, Americas, Africa, Overseas Territories, Commonwealth and Economic Diplomacy. She was also Board-level Diversity and Inclusion champion for the FCO.
Menna joined the FCO in 1989 and has served in a wide range of Diplomatic Service roles. She was most recently British High Commissioner to Australia from April 2015 to February 2019. Overseas, she has served in Washington DC, Accra, Tel Aviv, Nairobi and Brussels. In London she has served on the FCO Management Board as HR Director, as Private Secretary to the Permanent Under Secretary, in Press Office and in Africa and EU Directorates.
Menna holds a BSc in International Relations from the London School of Economics and an MBA from the Open University. She was awarded the CMG in 2014.