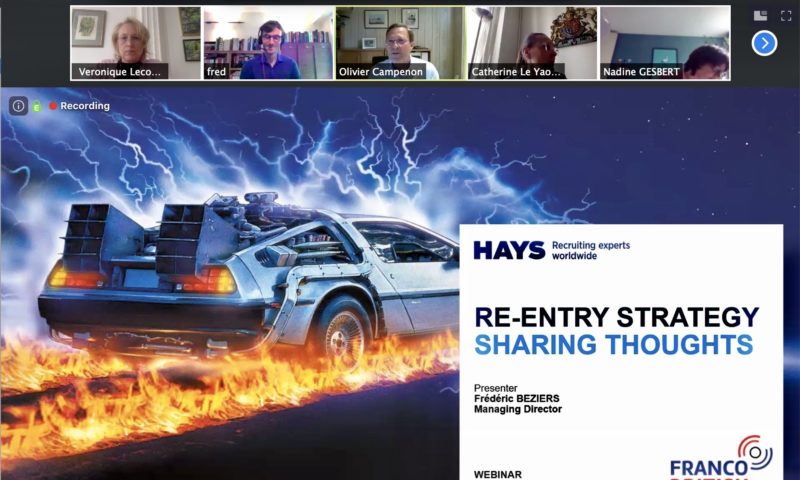 30 April 2020
On Thursday, 30th April, the Franco-British Chamber and O. Campenon, Vice President, had the pleasure of welcoming Frédéric Béziers, Managing Director of the Hays Group, for a web conference as part of their 'Business Leaders' Masterclass': adapting organisations to the Covid-19 crisis, in all its dimensions' series.
Re-entry strategy – Sharing Thoughts
After a few words on how he is finding lockdown and on Hays' teleworking in France and in the UK, Fréderic captivated us with the depth of his presentation on the corporate culture of Hays, which has already integrated flexibility into its organisation and working methods, with the aim of giving meaning to the future with scenario writing exercises. Some selected works in French and English.
Get real / Be virtual
Computer, tablet, mobile phone, online communication tools, communication platforms, @-learning, cloud solutions, software and CRM accessible online: all the digital tools are there to create virtual workgroups and meet today's needs which – admittedly, have been imposed globally under the health constraint – but are already well established at Hays, and will become a standard in the coming months.
Flexibility : only way forward
– implement a clear home office policy for all employees, with clear guidelines in case  of disruption
– enforce full planning transparency
– train your employees to self-monitor their performance
– put in place new digital rituals
– health & safety guidelines
– design training sessions on working remotely
– look for best practices
– have virtual ambassadors
– develop virtual meetings with clients & suppliers
– look for future talents that thrive in flexible & remote environments
– train people on how to communicate & engage with virtual tools.
Engage your managers in cultural change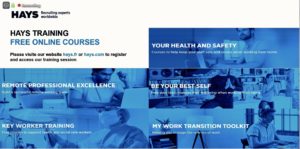 Foster collective intelligence
Scenario planning for survival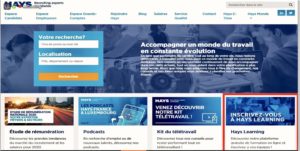 In response to questions asked by participants, Fréderic also mentioned the vulnerability of companies and organisations to technical issues (computer viruses, hacking, etc.) in a professional environment that has become dependent on IT systems.
Conclusion
Hays's historical expertise and experience in its own organisation enables it to accompany its clients to help them engage with a new culture where the virtual becomes the working and development method for all its parties, both internal and external.